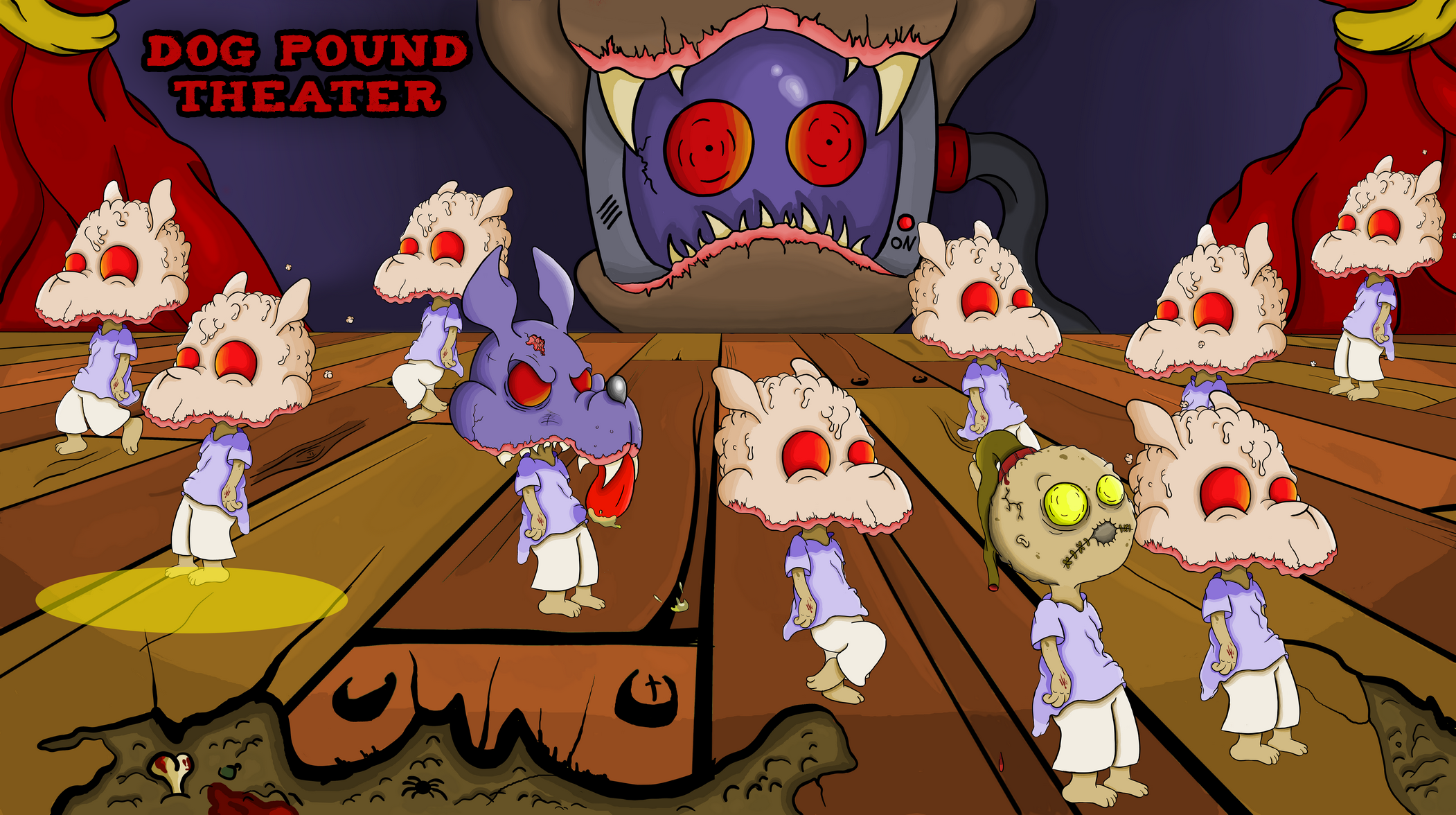 Dog Pound Theater
A downloadable game for Windows and macOS
Kind of game :
Dog Pound Theater is a hand-drawn local-multiplayer survival/reflexion game !
You have to be the last survivor of the play without being seen by the other player!
Universe and rules :
A strange TV mask maniac, named DR. Prime-Time, kidnaps many children to make them act in a strange play.
In this play, the children should never betray 3 absolute rules :

How to play :
The best way to enjoy Dog Pound Theater is to play with a friend in local multiplayer! However, you can always play alone against bots!
At the beginning of the game, find yourself in the sheep crowd without being seen by other player! Indeed, at the start, all players and bots wear a sheep mask! :
Then, thanks to the wolf mask, tear off the sheep masks of the others without DR. Prime-Time seeing you ! (His look is represented by spotlights!) Indeed, if you go through the spotlight without a mask or with a wolf mask, you'll be eliminated !
Finally, Try to be the last actor of the play! Other player (and some bots in advanced levels) can also tear off your own mask if they use wolf mask. You can still recover a mask if you get a "rabbit item"
Summary of the masks :
Sheep Mask :
At the start, all players/bots wear a sheep mask. It's the only mask that allows to survive to the spotlights.
Wolf Mask :
It's the only one that allows to tear off the masks of the others. If seen by the spotlights, it's eliminated.
Without Mask :
You are in this state when another player/bot with a wolf mask touchs you. If you're seen by the spotlights in this state, you're eliminated.
Rabbit Item :
Allows players/bots to recover a mask if they are in the state "Without Mask".
Controllers/Controls :
You must use Xbox One/360 or PlayStation 4 controllers for optimal game comfort!
Inputs are really simple! You move your character with the left joystick, and you switch over Wolf mask/Sheep mask with the A button for Xbox controllers and the X button for PlayStation 4 controller, that's it !
WARNING :
If you use 2 "Xbox" controllers, please connect the 2nd Xbox controller once you are in the game menu; not before. Thank you! This bug will be fixed in the next update!
Download
Click download now to get access to the following files:
Dog Pound Theater V1.2.zip
97 MB
Dog Pound Theater Demo.zip
83 MB
Dog Pound Theater V1.2 Mac.zip
101 MB
Dog Pound Theater Demo Mac.zip
86 MB
Comments
Log in with itch.io to leave a comment.
Worth every penny ! Once you understand the concept, it becomes really addictive.
Game is excellent ! Great design ideas with efforts on the execution ! So fun to play in local multiplayer with someone !

TO TRY
Excellent game for entertainment
SO NICE
AND GOOD GRAPHICS